THE HISTORY OF THE RED HOSE RACE
The race has been held every year since 1508 except in times of war and during the two Foot & Mouth disease outbreaks in 1926 & 1952. The outbreak in 2001 was over by the time the race was due to be held. James IV of Scotland granted the lands of Carnwath in 1508 to John Lord Somerville with unusual terms; "Praying thence yearly one pair of hose containing half an ell of English cloth at the feast of St. John the Baptist, called Midsummer, to the man running most quickly from the east end of Carnwath to the cross called Calla Cross".
Such is the origin of what is believed to be the oldest footrace in Britain. There was probably a military reason for imposing this duty on the owners of the Carnwath Estate. A fast runner could bring news of any approaching invasion from the South to Edinburgh and the red hose would be the insignia by which he would be recognised.
The Carnwath Estate came into the Lockhart family in 1684 when Sir George Lockhart acquired it from the Earl of Carnwath.
***

The Red Hose race is now a licenced race with Scottish Athletics

***
PLEASE REMEMBER YOU DO NOT HAVE TO LIVE IN THE BELOW PARISHES TO TAKE PART IN THIS RACE
Red Hose Socks can only be won by a resident within the Parishes of Auchengray, Braehead, Carnwath, Carstairs, Covington, Dunsyre, Dolphinton, Elsrickle, Forth, Libberton, Quothquan, Thankerton and Walston
RED HOSE RACE WINNERS - 2022
RED HOSE:
1st: Lewis Cleland
2nd: Alister Stewart
3rd: Jeremy McDermott
GENTS:
1st: Angus Wright
2nd: Adam Kelly
3rd: Kieran Pugh
LADIES:
1st: Megan Wright
2nd: Francesca Capaldi
3rd: Yuki Faulds
UNDER 16's - GIRLS:
1st: Jessica Inglis
2nd: Cerys Wright
3rd: Maya Carmichael
UNDER 16's - BOYS:
1st: Ryan Kellock
2nd: Gregor Wright
3rd: -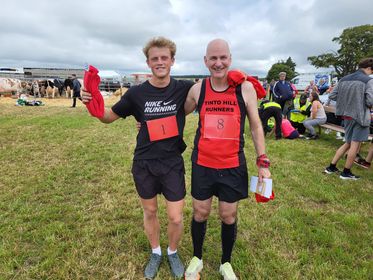 Lewis Cleland (number 1) winner of the Red Hose 2022 with Alister Stewart (number 8) second place.